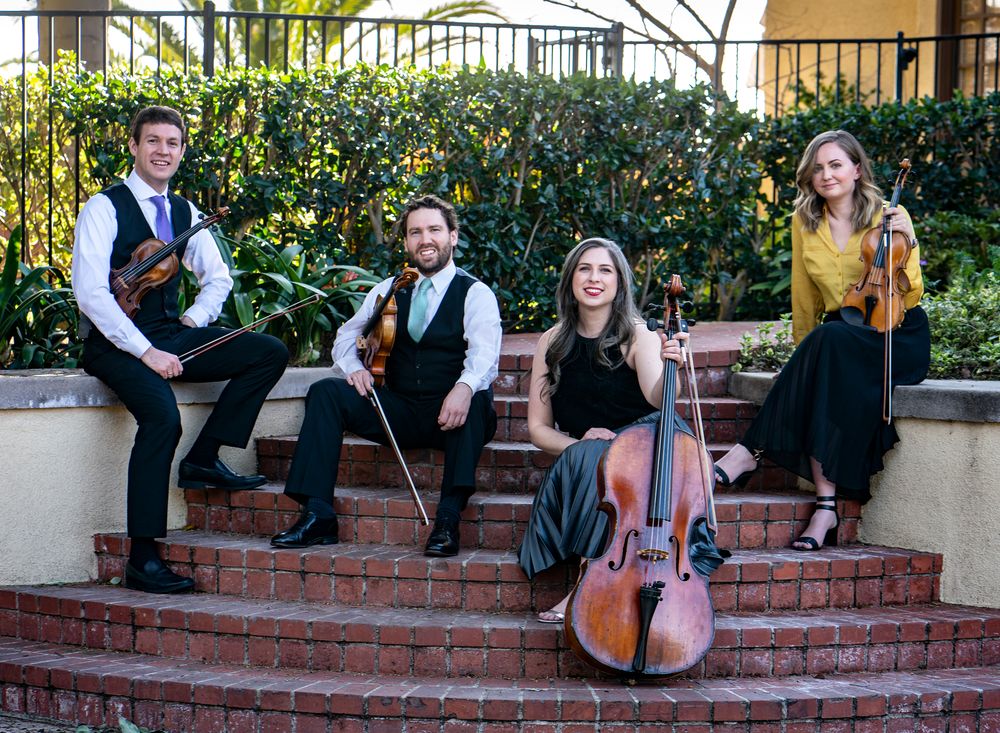 The Quartet
Admired for their "superlative artistry" (CVNC Arts Journal), the Kontras Quartet has established an international following for their vibrant and nuanced performances. The "superb Chicago-based ensemble" (Gramophone Magazine) has been lauded for their "crisp precision" (Palm Beach Daily News) and "enjoyable musical personality" (Fanfare Magazine). Kontras means contrasts in the Afrikaans language - fitting for a string ensemble whose colorful repertoire spans centuries, genres, and continents. 
The Kontras Quartet's recent and upcoming engagements include international tours of South Africa and Switzerland; broadcasts on classical radio stations nationwide (including Performance Today and a 3-month residency with Chicago's WFMT 98.7 fm); performances at Chicago's Symphony Center and the National Gallery of Art in Washington D.C.; television appearances on NBC and PBS; and sold out concerts in Telluride, Salt Lake City, Raleigh and Arizona. In the spring of 2018, Kontras and saxophone great Branford Marsalis gave the world premiere of Dan Visconti's quintet for string quartet and saxophone, a work that the Quartet co-commissioned with San Diego's Art of Elan. 
Kontras enjoys educational work of all kinds, and until 2020 served as the Quartet in Residence at Western Michigan University. The quartet has also continued its work in the Chicago Public Schools with the support of a grant from the Boeing Company. Outside of the Chicago area, Kontras has made a significant educational impact in North Carolina, bringing over 200 innovative and interactive outreach programs to 40,000 school-age and college students. 
The Kontras Quartet records for MSR Classics and has released three critically acclaimed albums. The first, Origins, features new and lesser-known works from the quartet's home countries, including the world premiere recording of Dan Visconti's Ramshackle Songs. The recording was commended by Gramophone Magazine for the quartet's "scrupulous shading and control". The second, Lucid Dreamer, features a septet that Kontras commissioned in 2013 with a generous Chamber Music America-awarded grant. The work treads the line between classical music and American folk and invigorates Kontras' ongoing collaboration with the esteemed Kruger Brothers trio, as does their 2017 release, the Roan Mountain Suite. 
Formed while the group's members were string principals in the Civic Orchestra of Chicago, the Kontras Quartet began pursuing a professional career in 2009. Kontras enjoyed immediate recognition, holding their own against seasoned string quartets from around the country to win a four-year chamber music residency with the Western Piedmont Symphony in North Carolina, a full-time position established through Chamber Music America's Residency Partnership Program. The quartet has received continued training with the Vermeer and Juilliard String Quartets.
"For their debut recording, the superb Chicago-based ensemble have eschewed anything resembling the predictable.
As in everything on their inaugural disc, the Kontras players are alert to the minutest facets.
How they apply such care and personality to core repertoire will be fascinating to hear..."
- Donald Rosenberg, Gramophone
Eleanor Bartsch
Chicago-based violinist Eleanor Bartsch enjoys a diverse and vibrant career as a chamber musician, orchestral musician, Concertmaster, soloist, educator, and entrepreneur at home in many musical styles. Bartsch joined the critically acclaimed Kontras Quartet as first violinist in 2018. She additionally serves as Associate Concertmaster of the Elgin Symphony Orchestra and Concertmaster of the Dubuque Symphony Orchestra. Bartsch has served as Concertmaster of the Chicago Philharmonic, Joffrey Ballet Orchestra, and Chicago Opera Theater Orchestra, and is Co-Founder of Madison, Wisconsin's Willy Street Chamber Players, an award-winning chamber ensemble with an emphasis on creating community through classical music. Bartsch is a frequent extra musician at the Lyric Opera of Chicago. 
Bartsch began her violin studies in her hometown of St. Paul, MN. She received her Master's degree in Violin Performance with a certificate in business entrepreneurship from the University of Wisconsin-Madison under the tutelage of David Perry as a Paul Collins Distinguished Graduate Fellow. She also received an undergraduate degree from UW-Madison, during which she spent her summers at the Aspen Music Festival studying with Paul Kantor and was a tenured member of the Madison Symphony Orchestra and Wisconsin Chamber Orchestra. Passionate about music education, she is currently on the faculty of the Barrington Music Academy and a frequent guest clinician at learning institutions throughout the United States.
Photo: Ness McCormick Photography
"To say that the playing was impressive would be an understatement. The performance was full of life, clean, crisp, and vibrant.
With tonight's performance, it is evident that the Kontras Quartet has worked hard
and has become a tightly crafted and beautiful instrument."
Francois Henkins
Having grown up in a highly musical family, violinist Francois Henkins distinguished himself at an early age by winning national chamber music and solo competitions in his native South Africa, and performing as guest soloist with the Johannesburg and Free State Symphonies. He came to the USA with a full scholarship to the Interlochen Arts Academy, and continued his studies under Chicago Symphony Orchestra concertmaster Robert Chen, Los Angeles Philharmonic associate concertmaster Nathan Cole, and Renata Artman Knific. Francois has since traveled the world to appear at chamber music festivals such as the Musicorda Chamber Music Festival; the Stellenbosch National Chamber Music Competition, at which he was awarded a prize for his notable performance; and the Cleveland Orchestra's Kent/Blossom Music Festival, where he was awarded the Josef Gingold Award for his distinguished performance in chamber music. An experienced orchestral performer, Francois has worked under renowned conductors such as Bernard Haitink and Pierre Boulez in the Civic Orchestra of Chicago, the Chicago Sinfonietta, and the Johannesburg Philharmonic. Francois has a deep love of teaching and is currently Adjunct Professor at Elmhurst University.
"The Kontras Quartet has a distinctive and enjoyable musical personality, and this well-recorded CD [Origins]
presents them in a wonderful light.  This disc is a delight all around, and is accordingly warmly recommended."
Ben Weber
Violist Benjamin Weber is currently Principal Viola with the Rockford Symphony Orchestra and has performed with many of the orchestras around the Chicago area. He has performed recently with Barbra Streisand, Todd Rundgren, and Howard Levy. An avid chamber musician, he was a founding member of Crossing Borders Music and has often appeared with the ACM Palomar Ensemble as a guest. As a string educator, he is on the faculty at the Merit School of Music and has led guest clinics at high schools around the Chicago area. He received a Bachelor's in Music Education from Illinois Wesleyan University in 2004 studying Violin and Viola with Michael Hining, and in 2008 he received a Master's degree in Viola Performance from the Eastman School of Music where he studied with John Graham and Melissa Matson. He and his wife are proud parents of their young daughter, Mara.
"Lest anyone think that chamber concerts have to be stiff and dull, they haven't yet met the Kontras Quartet."
Jean Hatmaker
Known for her soulful, expressive playing style, cellist Jean Hatmaker is one of the most versatile musicians in the Chicago area with a diverse portfolio of solo and collaborative projects across a wide range of musical and interdisciplinary settings. Her engaging and intuitive demeanor has made her a sought-after collaborator, from the Bach Cantata Vespers Series at Grace Lutheran Church of River Forest, IL and various classical chamber and orchestral ensembles, to performances with contemporary and folk musicians, and dance companies all across the country such as Hubbard Street Dance and Malashock Dance Company. Recent highlights include performing as solo cellist in the onstage band of Broadway in Chicago's production of Oklahoma!, continuo cello for St. John Passion with the Apollo Chorus, and the 2021 release of her album, Modern Muses, with soprano Josefien Stoppelenburg, on Navona Records. 
Ms. Hatmaker is a founding member of the Chicago-based Kontras Quartet, a beloved ensemble known for its well-crafted performances, diverse programming, and accessible audience relations. Kontras Quartet has brought its message of inclusivity to concerts across the US, Europe, and Africa, and frequently performs with bluegrass trio the Kruger Brothers, with whom they have appeared at festivals including Telluride, MerleFest, and IBMA Wide Open Bluegrass, as well as the Late Show with David Letterman. Kontras Quartet has released three commercial albums: Lucid Dreamer and Roan Mountain Suite with the Kruger Brothers, on Double Time Records; and Origins, on MSR Records. 
Ms. Hatmaker is on faculty at Elmhurst University and also has a private studio in her home in Oak Park; she frequently teaches as a guest clinician at schools across the country. She is a passionate advocate for mental health among teens and young adults, and holds a certification in Mental Health First Aid. Currently she serves as recording secretary on the board of directors for the Musicians Club of Women, a longstanding organization in Chicago devoted to supporting women in music. She received both Bachelor and Master of Music degrees in Cello Performance from Indiana University, where she studied with Helga Winold and Janos Starker, and plays a modern cello by Lawrence Wilke, using Hill and Bearden bows. 
www.jeanhatmaker.com 
Follow on Facebook or Instagram: 
Jean Hatmaker 
@cellogenie84